3 astuces pour tripler son efficacité au quotidien
Alors, dans cette vidéo, je vais vous donner 3 astuces pour tripler votre efficacité au quotidien en tant qu'entrepreneur ou futur entrepreneur. Si vous ne me connaissez pas, je m'appelle Antonella Viland, je suis fondatrice du programme « Entreprendre en Sécurité » de macreationdentreprise.fr et ça fait depuis 2005, j'accompagne des hommes et des femmes, comme vous, comme moi, à créer l'entreprise qui va avec la vie de leur rêve.
Alors 3 astuces pour tripler votre efficacité au quotidien en tant qu'entrepreneur, c'est ce que je vous ai promis. Bon, quand on est entrepreneur ou quand on démarrer dans sa vie d'entrepreneur, on a plein de choses à faire, c'est normal ! Et on n'a pas de patron qui vous dit : « Aujourd'hui, il faut que tu fasses ceci et cette semaine, il faut que tu fasses cela » puisque c'est soi-même le patron. Alors, comment faire pour, eh bien, être sûr d'être performant au maximum, de tirer un maximum de votre efficacité et de ne pas faire des heures et des heures inutiles et d'avoir le sentiment à la fin de la semaine ou à la fin de la journée que vous n'avancez pas et que finalement bah le chiffre d'affaires ne rentre pas, il y a 3 astuces que vous devez utiliser.
Faire une liste de tâches à faire
La première, je pense que vous l'avez peut-être déjà identifiée, c'est de faire une liste de tâches à faire, la fameuse To do list. Mais il y a une énorme erreur que la plupart des entrepreneurs font, c'est qu'ils le font… ils font une seule To do list, une énorme To do list longue comme le bras avec absolument tout : les choses urgentes, les choses importantes, les choses qu'il faudrait faire un jour, et du coup, on ne s'y retrouve pas. Alors, la première chose à faire par rapport à cette to do list, eh bien, en fait, c'est de ne pas la faire n'importe où ni sur un bout de papier ni sur excel, mais d'utiliser les outils qui sont disponibles comme aujourd'hui on en a. Alors, moi, j'en ai deux que j'aime bien, j'ai sur téléphone et sur ordinateur, quel que soit l'univers que vous utilisez, il y a Wunderlist et Trello Moi, Wunderlist, je l'utilise plutôt pour les choses personnelles et Trello pour le travail. Alors, ce qu'il y a de bien avec ces outils-là, par exemple, avec Trello, c'est… vous pouvez avoir autant de tableaux ouverts qui sont des listes par projet.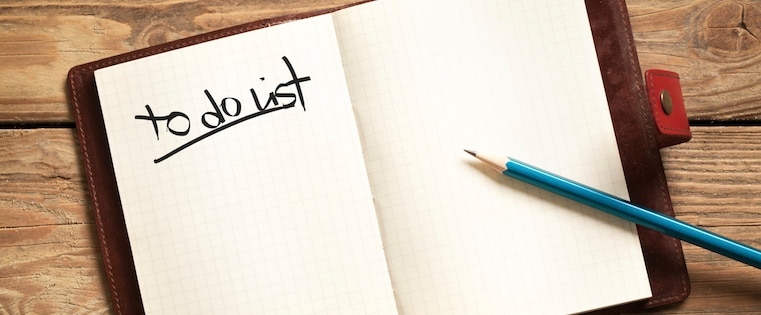 Donc, moi, j'ai des listes qui concernent chacun des projets que je suis en train de mener et en plus j'ai une masterlist. C'est la liste des choses chaudes, la liste des choses à faire cette semaine. Et dans cette liste-là, eh bien, je m'organise avec les échéances de chaque jour. Ça vous donne de la visibilité ! Et quand vous faites ça, vous prenez… allez, une heure par semaine et 10 minutes chaque soir pour vérifier si vous avez fait tout ce que vous aviez à faire et organiser votre lendemain. Vous triplez votre efficacité. Donc, ça, c'est la première chose. Faites la to do list. Ça, c'était facile, mais il y a 2 autres choses qui sont super importantes.
Faire une liste des choses à ne pas faire
Eh bien, c'est de faire en plus d'une to do list, une « to don't list », faire une liste des choses à ne pas faire. Ça, c'est super important quand on est entrepreneur parce qu'on a souvent tendance à se disperser sur des choses qui sont totalement inutiles et puis on n'ose pas faire des choix, sauf que les journées ne font que 24 heures. Vous ne pouvez pas mener absolument tout ce que vous voulez. Il va falloir vous concentrer à un entrepreneuriat. Le démarrage d'une boîte et le développement d'une boîte, c'est exactement comme quand on lance une fusée dans l'espace, ça prend énormément de kérosène pour démarrer, pour décoller. Donc, si vous diminuez votre énergie sur plein de choses en même temps, vous ne pouvez pas y arriver. Donc, faites une liste des choses à ne pas faire. Ça, c'est la deuxième liste que vous devez faire, hyper important !
Faire la liste des choses qui sont faites
Et puis la troisième liste à faire, eh bien, c'est la liste… la « done list », la liste des choses qui sont faites. Et si vous utilisez par exemple Trello, c'est super parce que vous pouvez lister les choses que vous avez faites dans votre liste des choses qui sont faites. Et ça, c'est formidable ! Et ça, tous les soirs et toutes les fins de semaine, vous la regardez et vous dites : « ouai, j'ai quand même fait tout ça quoi… chouette ! ». Et ça va vous motiver, ça va renforcer votre confiance en vous et évidemment, vous allez gagner en performance.
Donc, faites ces trois listes-là, faites la listes des choses faites, faites la liste des choses à ne pas faire et faites la to do list, mais organisez vos to do list par projet et par semaine et par jour, même si ça vous prend une heure par semaine. Au départ, la première fois que vous allez faire ça, ça vous prend peut-être une journée, mais une fois que ce sera fait, la routine, eh bien, ça va vraiment vous aider au quotidien. Et puis dans cette to do list, eh bien, moi, ce que je vous invite à faire, à marquer en haut, au top de votre to do list, c'est d'aller télécharger mes guides gratuits sur la page que vous trouverez en lien juste en dessous de cette vidéo avec, eh bien, toutes les infos pour monter une business qui réussit au 21e siècle.
Je veux le guide gratuit E-commerce
Vous avez une réaction à partager, une idée, un avis ? Cet article ou cette vidéo vous interpelle, vous bouscule… N'hésitez pas à commenter ci-dessous !